Today I am sharing two Real Parties that were submited to me by Mindy of
Modern Mindy
. The first party is a
S

w

e

e

t

S

t

r

a

w

b

e

r

r

y

P

a

r

t

y
that Mindy put together to celebrate her daughter's 3rd birthday. Mindy's inspiration came from the cute strawberry printables from
Dimple Prints
. I love all of the bright, cheerful colors that Mindy used throughout the party's decor as well as her attention to detail. How cute it that strawberry table skirt!
The cake (SO cute!) was created by a local decorator, Debbie Eaton.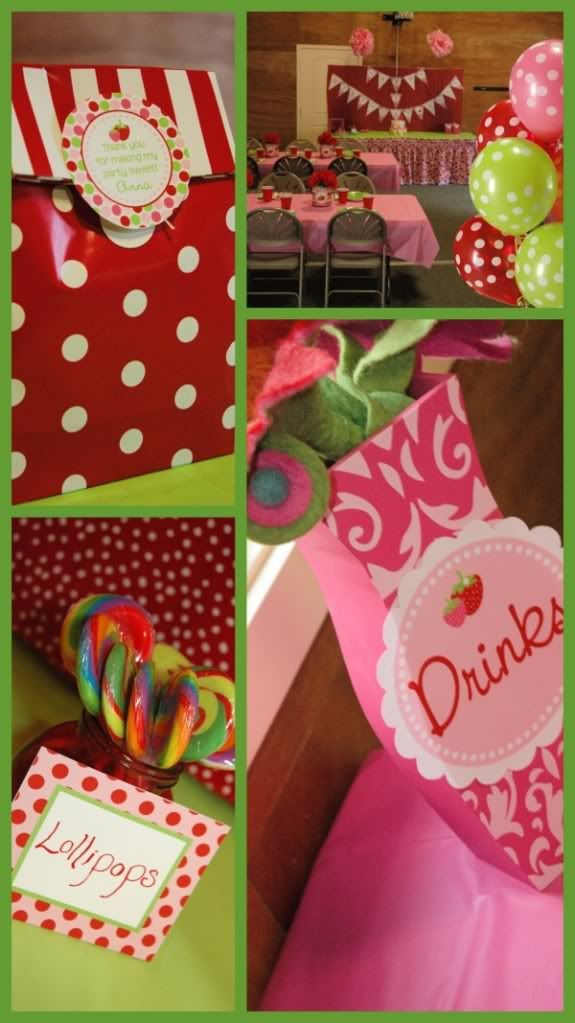 The second party that Mindy sent over was
A

T

r

o

p

i

c

a

l

T

e

a
. Every year Mindy's local MOPS (mother's of preschoolers) has a tea for 120 women. This year, insted of the usual "high tea", they decided to have a "tropical tea". With a budget of only $200, Mindy and her team of fellow moms were able to create a tropical oasis in a church gym. WOW! Here is how Mindy did it: "For the centerpieces I collected large cans & we wrapped them in orange & striped wrapping paper. In one we used a variety of tropical greens to create a relatively tall arrangement. We also incorporated the table signs into them. For the other centerpiece, I came up with a new twist on the tissue paper pom. We attached them to tall dowel rods giving a wonderful burst of color! We also had a "center table" were we used a very tall tropical plant to add even more drama. For the center stage area we started with a back drop of orange paper. We created a banner with colorful scrapbook paper & created the tropical tea letters with a Cricut. We flanked this with 2 large palm trees. We used discarded carpet rolls & wrapped them in butcher paper & rested that on umbrella stands to allow the stand up. We then drilled holes in the top & shoved large tropical leave in & fanned them out. We also hung paper lanterns from fishing line that we strung from basketball hoops. The food was fantastic with tons of tropical flavor. Fruit salsa with cinnamon pita chips, keylime pie, coconut dessert, macadamia cookies, curry chicken salad wraps, fruit skewers with creamy fruit dip, cucumber sandwiches, & lots more. Of course we had tropical tea plus a coconut pineapple ice cream punch!". I am amazed at how much these women were able to do on such a modest budget.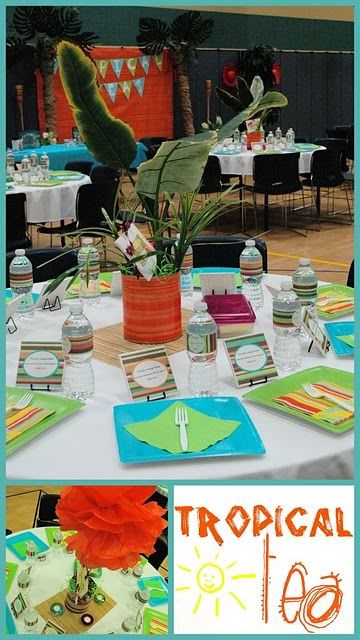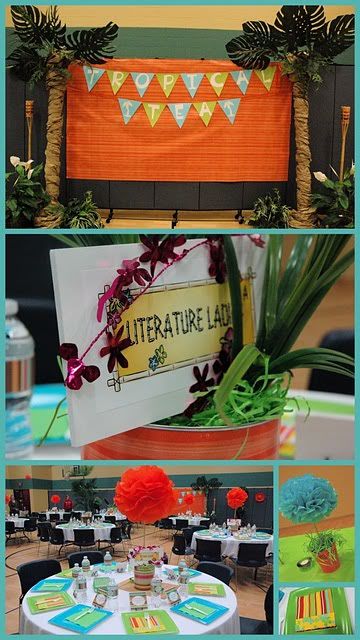 Way to go, Mindy! Thank you for sharing BOTH of your Real Parties with Sheek Shindigs. To see more of Mindy's creations, visit her at
Modern Mindy
.