How about a little PB & C to sweeten your weekend? That's peanut butter and chocolate! I recently made mini
Peanut Butter Silk Pies
for a
baby shower
and have been getting requests from my husband and family ever since. It is easy to make, sure to satisfy a sweet tooth, and really isn't as heavy or rich as you might imagine. The original recipe comes from the Sea Cow Eatery in Edisto Beach, South Carolina. Instead of making a homemade pie crust, I use a prepared chocolate cookie crumb crust, which makes this an entirely no-bake treat. I just put one in the refrigerator for dessert tomorrow night with the in-laws. It literally took me less than 10 minutes from start to finish and it looks fabulous!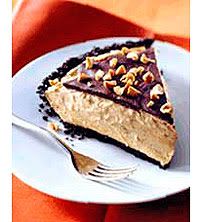 Peanut Butter Silk Pie
Filling:
- 1 package (8 oz) cream cheese, softened
- 1 cup sugar
- 1 cup creamy peanut butter
- 1 tablespoon butter, melted
- 1 teaspoon vanilla extract
- 1 cup heavy whipping cream, beaten until stiff
- 1 (9-inch) prepared chocolate cookie-crumb crust
Topping:
- 1 cup semisweet chocolate chips
- 3 tablespoons brewed coffee
- chopped peanuts for garnish
Directions:
Make Filling:
Beat cream cheese, sugar, peanut butter, butter, and vanilla in a large mixer bowl until creamy. Gently fold in half of the beaten cream. Fold in the remaining cream until blended. Spread filling in prepared crust and smooth top.
Make Topping
: Combine chips and coffee in a microwaveproof bowl. Cover with plastic wrap and microwave on high 1 1/2 to 2 minutes; stir until smooth. Cool chocolate slightly. Pour over top of filling. Refrigerate pie 1 hour until chocolate is firm. Cover loosely and refrigerate overnight. Sprinkle with chopped peanuts before serving.
I hope that you enjoy!