A couple of weekends ago my husband and the kiddos helped me plant a small summer garden. I love fresh summer vegetables! They have always been a season staple for my family, as my grandfather has been producing some of the
best
local veggies in his annual garden ever since I can remember. I decided to start the summertime tradition of growing a vegetable garden with my own children this year, though on a much smaller scale. After all of our planting I found myself feeling hungry, which resulted in a good rummage through my recipe "stash" for something fresh and new. I ended up coming across the perfect recipe for a summertime appetizer or light lunch entree from
Better Homes and Gardens
:
Garden Sliders
. This recipe allows you to take full advantage of the season's freshest produce, whether using vegetables from your own garden or a local farmers market. These bite-sized sandwich yummies combine grilled summer squash, crisp cucumbers, and tomato with a hearty white bean dip to create a healthy and satisfying summertime snack. Hungry yet? I am!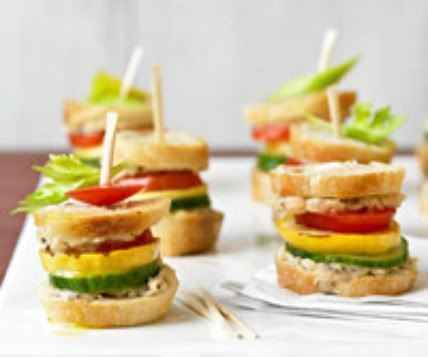 Garden Sliders

Ingredients

- 1 15- to 16-oz. can Great Northern or cannellini beans, rinsed and drained
- 2 Tbsp. olive oil
- 2 cloves garlic, minced (1 tsp.)
- 1/2 tsp. Italian seasoning, crushed
- 1 medium yellow summer squash, cut into 1/4-inch-thick slices
- 24 1/4-inch-thick slices baguette
- 2 medium roma tomatoes, cut in 1/4-inch-thick slices
- 1 small cucumber, cut into 1/4-inch-thick slices
- Small celery top sprigs, small tomato wedges, and/or pickle slices (optional)
Directions

1. For bean spread, in blender or food processor combine beans, 1 tablespoon of the oil, the garlic, and Italian seasoning. Cover; blend or process until smooth. Season with salt and ground black pepper.
2. To grill squash, toss squash slices with remaining tablespoon olive oil. Place in a grill basket. Place basket directly over medium coals for about 5 minutes or just until squash is tender, turning once.
3. Spread one side of each bread slice with bean spread. Top half of the bread with tomato, squash, and cucumber slices. Top with remaining bread slices, spread side down. Secure sandwiches with wooden picks. Top with celery sprigs, tomato wedges, and/or pickle slices.
Makes 12 appetizers-size sandwiches.
Make-Ahead
Make the bean spread up to 2 days ahead; refrigerate, covered. Slice vegetables up to 24 hours ahead. Assemble sliders 2 hours ahead.